Scale ice machines (F-Series)
The technology behind our scale ice machines forms the foundation of our business. Designed from simplicity, the machines are developed to be dependable, durable and reliable.
Recom's scale ice machines produce fresh and clean scale ice, and are therefore perfect for the food and fishing industry. Scale ice, also referred to as flake ice, are flat, thin pieces of ice (1,8 – 2,2 mm). They are formed on the inner surface of the drum by pouring a film of water over it, upon touching the drum, the water freezes into a sheet of ice. This ice is sub-cooled in order to make it brittle, and then cracked off by an ice knife, resulting in the ice falling into the storage.
At Recom we have made the deliberate choice to use a vertical ice drum, rather than a horizontal drum. By doing so, we were able to strongly reduce the amount of rotating parts, and prevent the risk of leakage and wear, whilst maintaining the quality of the ice.
Another great feature of our scale ice machines is that we have opted to use a heavy-duty stainless steel ice knife. This knife breaks the ice off the drum, without ever touching the inner ice drum. This high-duty ice knife brings us two distinct advantages. Firstly, it limits the wear on both the ice drum and the ice knife, resulting in a strong reduction of maintenance and extending the lifetime of the machine. Secondly, this method allows for the Recom industrial flake ice machines to operate without the need to add any salt to the mixture.
As many of our industrial scale ice machines are being used in the food industry, it is needless to say, we have made sure that all of our equipment meets the strictest food safety requirements.
All of our machines are completely tested before delivery, and can be delivered as plug and play units.
Our scale ice machines produce up to 25 T/day. Furthermore, scale ice machines are also available as water-cooled (with cooling tower) or evaporative-cooled.
Scale ice machines (F-Series)
Capacity
3T
/
4T
/
5T
/
6T
/
F-series ice generator with air-cooled condenser, optional with water-cooled condenser
Including gear motor, water pump, salt mix pump control box and control panel with PLC
Ice knife and construction are made of stainless steel
Base is made of galvanized steel
F-series ice drum inner wall is made of chrome plated carbon steel / optional stainless steel
F-series ice drum outer wall is made of stainless steel
Fitted with piston semi-hermetic compressors
Refrigerant R448, R449, R507, R717 (NH3) or CO2
Available in Standard (AS) and Tropical (AT) versions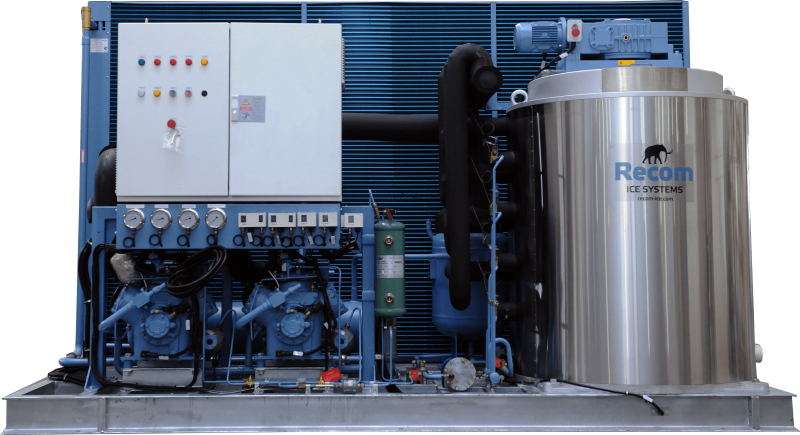 F100AT-5
Scale ice machines (F-Series)
Capacity
8T
/
10T
/
15T
/
F-series ice generator with air-cooled condenser, optional with water-cooled or evaporative cooled
Including gear motor, water pump and salt mix pump control box
Ice knife and construction are made of stainless steel
Base is made of galvanized steel
F-series ice drum inner wall is made of chrome plated carbon steel / optional stainless steel
F-series ice drum outer wall is made of stainless steel
Fitted with semi-hermetic piston or screw compressors
Refrigerant R448, R449, R507 & R717 (NH3)
Available in Standard (AS) and Tropical (AT) versions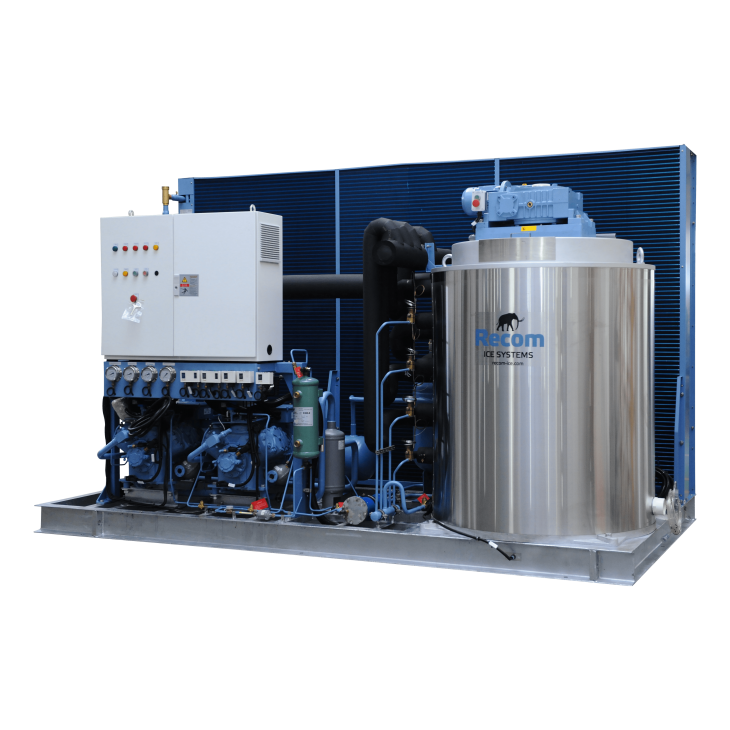 F100AS-5
Scale ice machines (F-Series)
F-series ice generator with air-cooled condenser, optional with water-cooled or evaporative cooled
Including gear motor, water pump and salt mix pump control box
Ice knife and construction are made of stainless steel
Base is made of galvanized steel
F-series ice drum inner wall is made of chrome plated carbon steel / optional stainless steel
F-series ice drum outer wall is made of stainless steel
Fitted with semi-hermetic piston or screw compressors
Refrigerant R448, R449, R507 & R717
Available in Standard (AS) and Tropical (AT) versions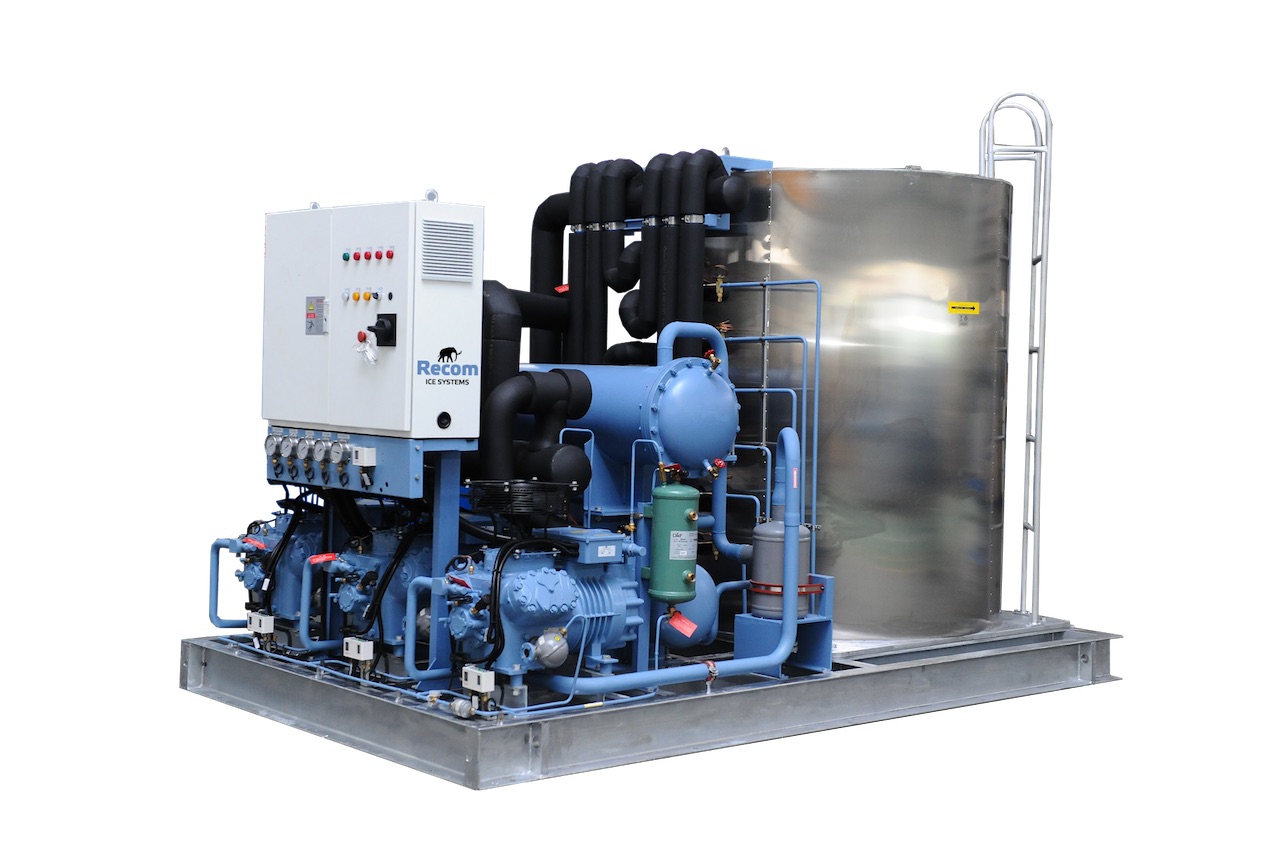 Catalog Industrial flake and scale ice machines