Containerized flake ice plants (CF-Series)
Recom's containerized flake ice plants produce fresh and clean flake ice, and are therefore perfect for the food, fishing, construction, concrete cooling and artificial snow industry.
Flake ice are flat, thin pieces of ice (1,8 – 2,2 mm), that are produced in a vertical ice drum. Flake ice is formed on the inner surface of the drum by pouring a film of water over it and then contact freezing it into a sheet of ice. This ice is sub-cooled in order to make it brittle, and then cracked off by an ice knife, resulting in the ice falling into the ice storage.
This video shows an example of a Recom Containerized Flake Ice Plant.
More details and specifications about Recom's containerized flake ice plants are found below the image, as well as the Catalog Conainerized ice plants.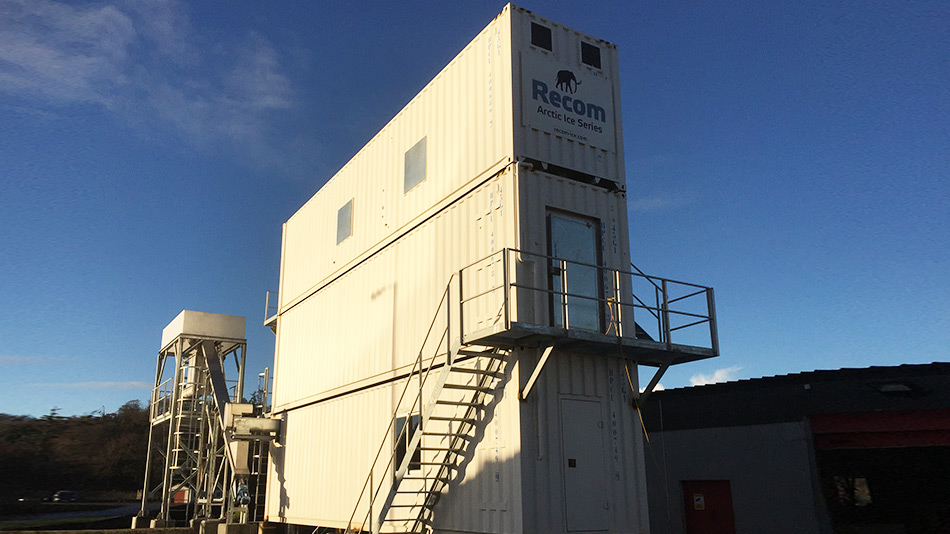 Recom CF150ET-5 in Stornoway Port, Schotland
Details
Capacity
10T
/
15T
/
20T
/
25T
/
30T
/
35T
/
40T
/
45T
/
50T
/
60T
/
80T
/
100T
/
• Fully tested and approved before shipment
• Containerized system, easy to install
• Siemens PLC controlled with touch screen
• Containers temperature controlled
• Fitted with an air-cooled, water-cooled or evaporative-cooled condenser
• Build in 20ft or 40ft HC containers
• Screw or piston semi-hermetic compressors
• High performance under heavy conditions
• Refrigerant R448, R449, R507 or R717 (NH3)
• Easy to combine with Recom IS-series ice storages
Catalog Containerized ice plants